Voice in Canada: The Flash Briefing
Flash Briefing Officially Launches February 19, 2018
Scroll down for information on how to win an Echo Dot!
Have heard you when you first started your Podcast Teri. Thanks for doing this for us fans here in Canada. Glad you have guests. Always like to hear what is new or what is coming up with Alexa in Canada. Looking forward to future Podcasts.
Exciting! I have found the weekly podcasts very informative and helpful and can't wait to start using the new flash briefing. I have already listened to it and it's great…looking forward to having it in my morning routine.
Great Work!!! Teri, great news and Congrats on the launch. The reason I invested in Echo(s) last December was because of the research I was privileged and provided by "Alexa in Canada" website and podcasts. I previously was using a competitor home and mini, but after discovering all that Echo had to offer via Mr. Fisher's site, I was sold. Thank you Teri for all your hard work, and continue especially with your hot deals updates on Alexa-related products.
What is the Voice in Canada Flash Briefing?
Teri Fisher, from the Alexa in Canada Podcast and Blog, reveals all of his top Amazon Alexa and Echo tips, tricks, skills, reviews, news, and deals. Discover how you can get the most out of Alexa's voice-first service so you can have the time and freedom to make your life more organized, relaxed, stress-free, entertaining, and fun!
We cover everything from Amazon Echo devices, smart home automation, and flash briefings, to voice recognition, natural language processing, and artificial intelligence (AI). Find out everything that works (and doesn't work) to help get Alexa working for you.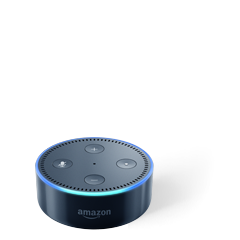 Contest!
Win a Brand New Echo Dot!
Thank you so much for being here and listening to my very first flash briefing episodes. To express my appreciation I am holding a contest to award one of you awesome early listeners with a brand new Echo Dot!
To enter the contest, follow these 3 simple steps:
1. Leave an honest review of the flash briefing through your Alexa app or on the Amazon Skills store by clicking HERE!
2. Take a screenshot of your review BEFORE you submit it. Once you have your screenshot, submit the review.
3. Post the screenshot to your Instagram, Twitter, or Facebook account with these 3 hashtags:
#amazonecho
#amazonalexa
#voiceincanada
BONUS: Get an extra entry for every extra social media channel that you post your screenshot to with those hashtags!
I will choose one lucky winner at random on March 5th and I will announce the winner on the Alexa in Canada social media channels and notify the winner through his/her social media account!
The Fine Print
Contest is open until 11:59pm on March 4, 2018.
There will be one winner for this contest. Winner will be selected at random (using the Alexa random number generator command!!) and posted on the Alexa in Canada Social media channels, and announced on the Voice in Canada Flash Briefing, on March 6, 2018.
Open to Canadian and US residents 21 years or older. Void where prohibited or restricted by Canadian or US law.
Winner will have to answer a skill testing question.
Contest is not associated in any way with Amazon.com Inc. Alexa in Canada and Voice in Canada are independent publications and have not been authorized, sponsored, or otherwise approved by Amazon.com, Inc.
Winner will receive one Echo Dot (approx retail value $69.99 CDN).
For more information about the Flash Briefing or to get in touch with me, feel free to click on the button below! I look forward to hearing from you!