WANT THE INSIDE SCOOP?
Join the Alexa in Canada Community to get the latest tips and tricks!
About.
INSPIRED BY CANADIANS.
What happens when you take Alexa and throw her into the Great White North? You get "Alexa in Canada", a blog about getting the most out of your Amazon Alexa personal assistant!
Hi, I'm Teri, and my goal is to help you get to know Alexa, help you set her up (technically speaking!), teach you about all the things she can help you with, and show you how having her in your life is AMAZING!! We are talking about a digital assistant, right?! Just checking.
Through this blog, I hope to help you take advantage of Amazon Alexa in Canada and make your life more relaxing, organized, stress-free, and entertaining… just by saying that one simple word – "Alexa!"
PERSONALIZE YOUR ALEXA EXPERIENCE.
At the brain of Alexa are her skills… over 20,000 of them! It's what allows her to order pizza, check the weather, or listen to Spotify. You can choose which skills you want Alexa to enable and personalize your experience.
Right now there are 20 different categories and the number of skills in each is growing daily.
Games, Trivia & Accessories
Get her now.
MY TOP RECOMMENDATIONS.
In the spirit of full transparency, know that I do receive payment for mentioning these products. However, I only promote those products or services that I have investigated and truly feel deliver value to you.
These are my top 2 recommended Amazon Alexa devices that are currently on the market. Click on the pics to discover more about them.
1. AMAZON ECHO DOT (2nd GENERATION).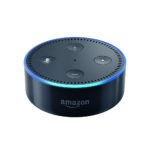 The Amazon Echo Dot is the smallest Echo device that houses Alexa. It's only 1.3″ x 3.3″ x 3.3″ (32 mm x 84 mm x 84 mm), about the size of a hockey puck! It's the perfect starter device to introduce Alexa to your family!
2. AMAZON ECHO (2nd GENERATION).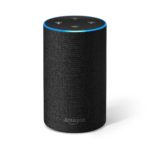 The Amazon Echo is the "standard" Alexa device. This one has better speakers than the Echo Dot (i.e. Dolby sound), providing better sound quality when Alexa is "serenading" you! Other than that, functions are the same. It's also a little bigger than the Dot, at 5.9" x 3.5" x 3.5" (148 mm x 88 mm x 88 mm), or about 6 hockey pucks stacked on one another.